A little glimps of what I'm doing
While I have a myriad of knitting ideas and projects in my head, and a couple on the needles, right now I'm working on two projects for Kat Coyle's upcoming book, so knit blogging will be sparse at best. She has granted me permission to post little unrevealing bits of what I'm doing, and so, I give you a swatch's eye view of my current progress.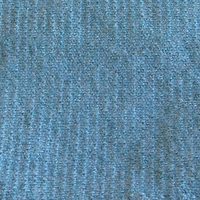 This is the public side of the fabric. It's worked in Alpaca in a stitch known by several names. I believe Barbara Walker refers to it as a "Woven Stitch" and the Harmony Guides refer to it as "Linen Stitch." Either way I love the way it looks though it's a beast to knit and a real yarn hog. I don't care though, it's worth every hour spent. Check out how the back of the fabric looks: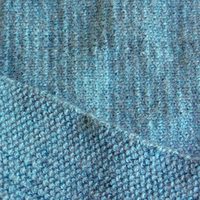 Isn't it great? It's a sort of highly defined seed stitch, though of course, not reversible. Despite the fact that all the knit stitches face the front of the fabric and all the purl stitches face the back, the fabric does not roll the way a stockinette does, which means that the requirement for edging is really minimal. All in all, I'm very happy with the results so far.
But that's about as much of that as I can show you. Instead, how about a little spinning?
Here is some roving from Chasing Rainbows Dyeworks (no site, but you can search google to see all sorts of shops that sell her work.) It's tencel/merino blend in colorway "Sandlewood"
I can't decide which shot I like better.
On the left is the roving in the shade. There's a bit of a flatness to it but it's got a soft and pleasant look to it. On the right, she basks in direct sunlight. You might need sunglasses for the glare but it really shows her sheen. Either way, I'm in love. And can I just say how much I love this tree stump in my backyard?