When I was a kid, I used to go to Canobie Lake Park every year with my parents because the company they worked for rented out the park for a day, once a year. I remember seeing all the roller coasters, even the one in the little kids' area and thinking "yah, I want to go on that." But as soon as the ride got going, I'd realize that this was definitely NOT what I wanted to be doing and in fact, if I didn't get off STAT, I was going to need to scream my fool head off. Luckily, I was a fast learner and quickly came to the conclusion that I was happier on more tame rides and getting "antique" photos taken with my friends. Odd, but I always loved the Turkish Twist which was like a tilt-a-whirl without the tilt and down in a pit where the floor dropped out from under you. So it's kind of like being in a salad spinner.
Anyway, moving has been much like riding that roller coaster for the first time. I think, "Yah, no problem, I'm ready for this. While I'm at it, maybe I'll bring peace to the middle east too." Then suddenly I realize that everything is happening and I can't turn back; Leo and Panda take off, the apartment is full of things I need to sell, and work is hitting a busy point. I see that apex of that long first hill ahead of me and start to think, hmmm, am I actually ready for this?
And what a ride it's been. Moving out of the old place on Tuesday was such a relief. I really do love LA, I've been very happy here, but I've been on a strict regiment of "no fun, all cleaning and selling old furniture" for the past week. I have a new disdain for flakey people who say they are coming to get your furniture and never show up. I also have scorn for people who try to haggle me on items I'm already trying to sell for much less than even Goodwill would charge. I'm not bitter, nah, not at all.
But I'm now a guest of a certain winter minded friend of mine, and life is good again.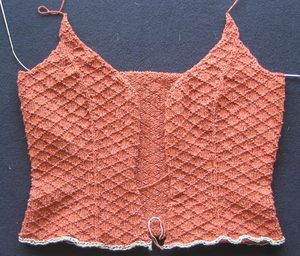 I've made a small amount of progress on the Silky Wool cardigan. You can now see the full effect of the princess seams. She'll look better after a little blocking.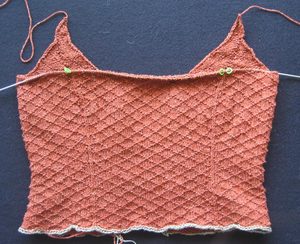 The front and back are almost done and then I start playing around with sleeves. I do the bulk of my designing in Adobe Illustrator.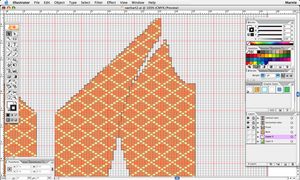 I don't want to give anyone the impression that using Illustrator is quick or easy, but I find it to be a great tool for the way I like to design for myself. In this case, the first thing I do is build a grid to scale. Then I create a pattern swatch that exactly matches a single pattern repeat for the stitch pattern. Since I generally create my document to be an exact 1 to 1 scale of the final pattern, I can use the actual inch markers on the built in document rulers, to draw the shape I want.
A little hint if you want to try this yourself, if you want a smaller scale, try working in centimeters instead of inches or picas instead of centimeters. For instance, if I draw my design pretending that each centimeter is an inch, I can basically scale the whole piece down by half, but I still have a ruler to go by when making modifications.
Just like working on regular graph paper, once my general shape is defined, I need to go in and redraw the shapes so they are made up only of whole stitches. Once the initial design is built, I fill it with my original pattern swatch and if all goes well, it will perfectly align with my gauge grid.
From there, I can reshape the piece at will and see how it will look. Then, I just print it out and work directly from the chart while I knit.
Since I have both a stitch-by-stitch, row-by-row representation of the piece and the stitch pattern, I can forego the row counter altogether. I just tick off the last row I worked and if I'm unsure if I remembered to mark off the last row, I can double check by looking at what row of the stitch pattern I just knit and comparing it to the chart.
I'd be curious to hear how other designers out there like to do their designing. Do many of you use Excel? Pencil, paper and calculator? Design programs? (I have one, but generally don't use it for much more than calculating the armsceye and sleeve caps of multi-sized patterns.) Do you have another technique all together? Do tell.
Share this post