Wow, I have been one lazy bum these past few days. I think my body had finally gotten used to being 12.5 hours off from PDT and coming back my mind just gave up on me and said "Forget it, you can just sleep ALL the time, for all I care." We went out for a really nice dinner on Friday night and caught some bands and clubs downtown, but it was an act of pure will power to stay awake. However, I wasn't a complete and utter bump on a log. El Matchador and I enjoyed a sweet sweet reunion.
The first thing I did was to finish plying my 4 ounces of Alpaca in the Iris colorway. There are about 315 yards of DK-ish weight 2-ply.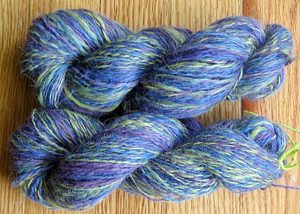 It was actually nice to start off with something as mindless as plying.
Once all my alpaca off the niddy noddy and hanging out to dry, I broke into some of my Merino/Silk in colorway Catalina.
Both fibers are from Janel's store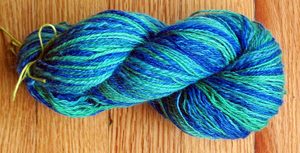 This skein is 2 ounces and is a 3 ply, using the Navajo plying method. There are about 190 yards and it's, more or less, worsted weight. I love this method of plying, but man am I good at getting it messed up. I had a few "ugly moments" in this skein. Let us not speak of it again.
I, of course, have more fiber on the wheel right now. I'll have to show you that some other time.
We did manage to get out of the house yesterday, to give Panda a proper run around the park. Our hope had been to go to the beach, but the weather, being Portland an all, wasn't quite suitable for such endeavors. This is not to say that it wasn't beautiful out, though. After 5 years in LA, I sort of forgot how beautiful drizzly autumn days could be.
We swung by Leo's office and I snapped pictures of the ducks in the little river near the parking lot.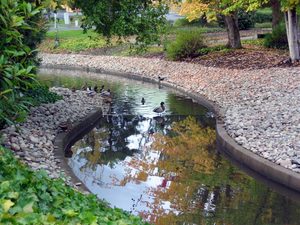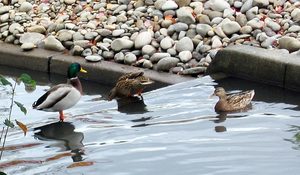 And all around us, the trees were turning.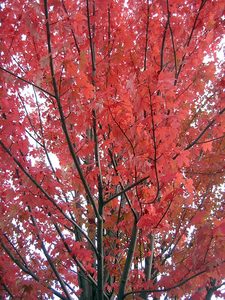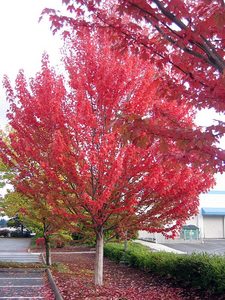 The overcast skies really make the colors pop by comparison.
With an adventurous spirit and a little luck, we even found a nice little park to let the girl run around.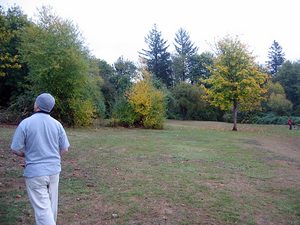 It had an apple tree just overflowing with ripe fruit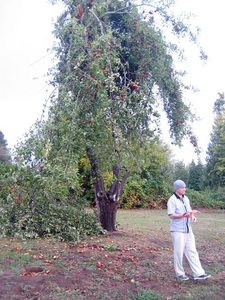 And lovely little roses giving their last blooms before winter.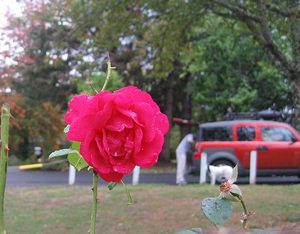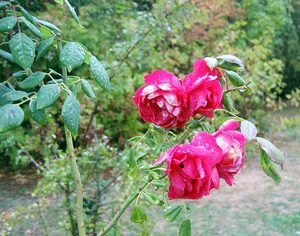 I love that Portland offers some of the vivid colors of autumn that I remember from New Hampshire, but offers mild enough weather to sustain roses. Talk about the best of all worlds!
Share this post