Tutorial - Using Excel to design colorwork
This entry has also been posted at the Create Along
Today, my intrepid reader, I hope to offer you some tips on using Microsoft Excel for designing colorwork. This will be a long and picture heavy post, so I hope you'll bear with me. Later, I will do a tutorial on designing stitch pattern charts in Excel. I am currently using Excel X for the Mac. I will do my best to provide instructions that can be used cross-platform and with older versions of the software, but your results may still vary. I've enlarged the cursors throughout, to make the actions more obvious and most of the images can be enlarged by clicking on them. Still, if you hit a snag, just drop me a comment or email and I'll try to help you out.
Many moons ago I bought a cute fair isle sweater. It was inexpensive but very cute, fit well was exceedingly warm. Unfortunately, she found her way into the wash and was never the same.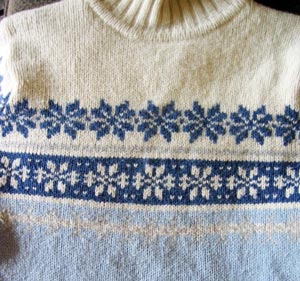 Sweater I bought and subsequently sent through the wash
Having escaped the drier, the sweater still fits but the fair isle portion pulls in and causes a weird a-line shape to the piece that is no longer flattering. I've been thinking I would like to reknit it, someday, using the same pattern, but perhaps some different colors. Excel can be a fun way to play with this idea.
Continue reading "Tutorial - Using Excel to design colorwork" »