The best laid plans of mice and men
Leo, Panda and I went to the beach this weekend. The coast is usually a safe bet for us because it's generally beautiful and Panda loves it.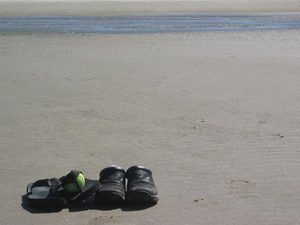 Even our shoes seem happy at the beach
Leo had explored the Oregon coast a bit before and when he had, it had been beautiful but exceedingly cold. He suggested lots of layers. So we threw on some warm clothing and headed out for a quick half-day trip to the ocean.
Read all about it after the bump.